After taking a short (about a year and a half) hiatus, Jenn re-launched her writing career July of 2018. During that hiatus, her original website fell to the wayside and this new one came to fruition . . . and has been suffering an identity crisis. It won't be long before you'll find something amazing and awesome here! Stay tuned!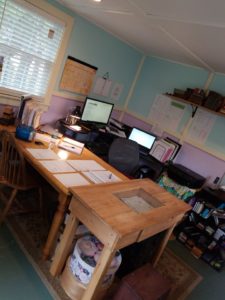 A Little About Jenn . . .
She's been in the writing and publishing industry since November of 1999. For those of you who are keeping track, that's one month before she gave birth to her oldest son. (Right?)
What Does She Do?
Right now, her focus is ghostwriting articles, blog posts, website content, and white papers for clients.
Where Can you Find Her Working?
Jenn has portfolios on the following sites:
Jenn is a Freelance Writer
She delivers high-quality content on time and on-spec.
Jenn is an Entrepreneur!
You'll find periodic updates regarding her photography designs, as well!
Jenn's Dependable
She's in her office daily!
Her office is a renovated building in her backyard that she loves working in, so she's there daily!
Would you like to work with Jenn?
If so, you can reach out to her anytime! She's impressively responsive to email!